Since its founding in 1881, Audemars Piguet has specialized in the manufacture of complication watches.
AP is still considered a leader in the field of pocket watches and wristwatches with complications.
Nowadays, modern technologies undoubtedly make it much easier to produce complex watch complications, but until the end of the twentieth century, there were very few watchmakers companies who mass-produced haute horlogerie timepieces such as perpetual calendars, tourbillons, and minute repeaters.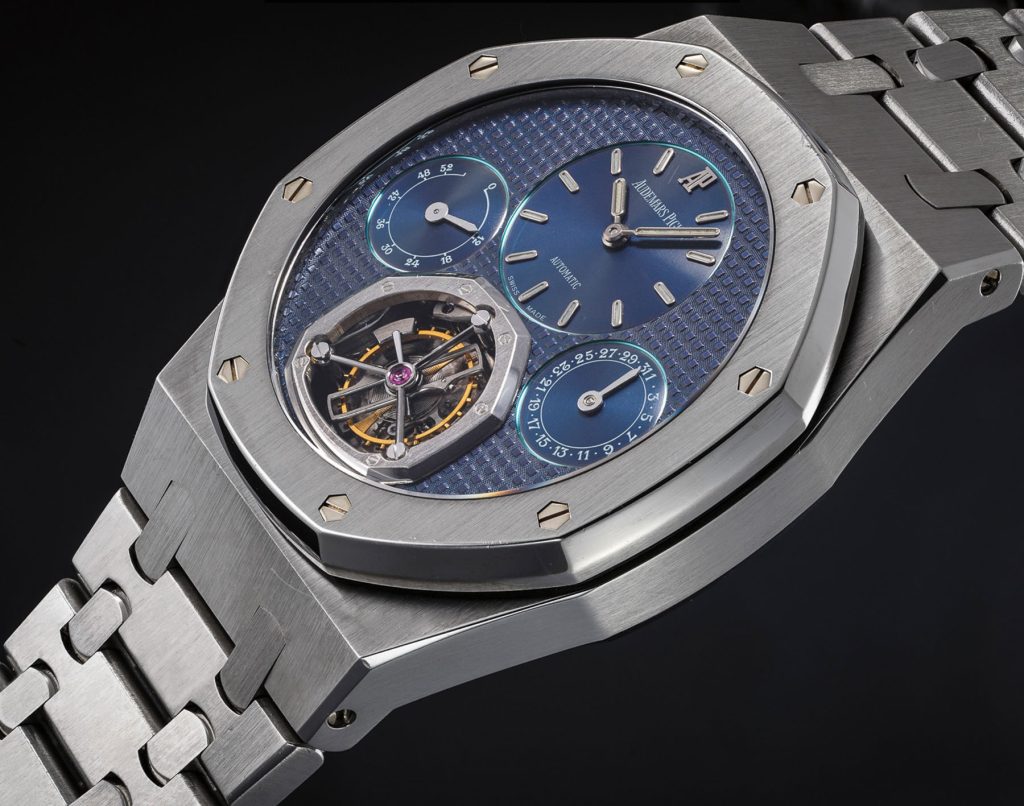 An important milestone in the history of the Manufacture was reached in 1978 with the introduction of the caliber Quantieme Perpetuele Automatique 2120/2800, at the time the thinnest perpetual movement in the world.
In the midst of the quartz crisis, Audemars Piguet decided not to chase the new quartz technology like other competitors, but to focus exclusively on its strengths and competencies such as fine mechanical watchmaking. The credit for the design and construction of the caliber 2120/800 went to 3 watchmakers: Michel Rochat, Jean-Daniel Golay and Wilfred Berney, who, by combining their skills and technical know-how, managed to present the AP management a credible technical project in which they could invest financial resources.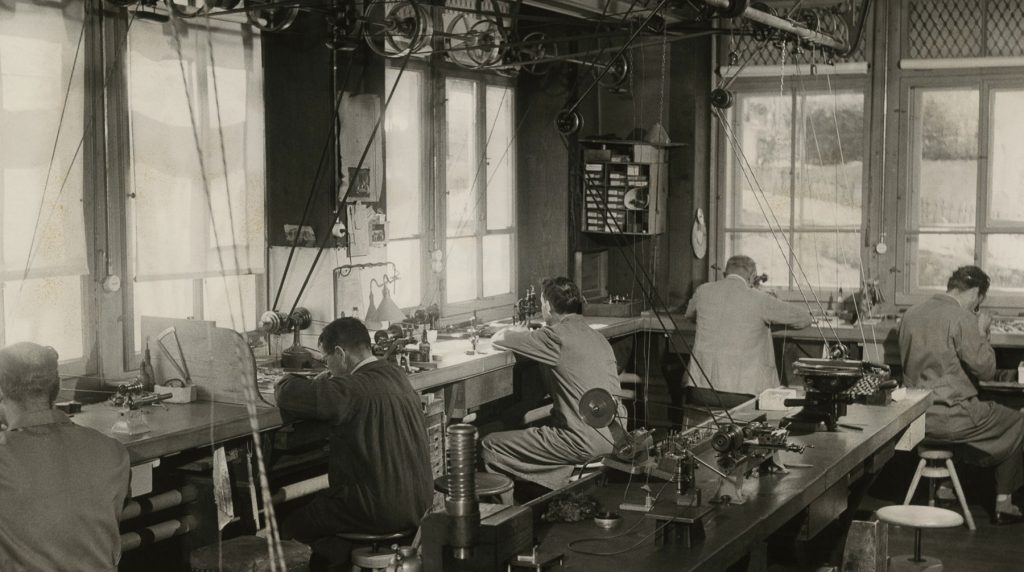 Georges Golay, who was Audemars Piguet's general manager in 1978, immediately recognised the potential of the project and commissioned the production of 159 perpetual calendars, an exceptionally high number that represented almost the entirety of the perpetual calendars produced by Audemars Piguet up to that time.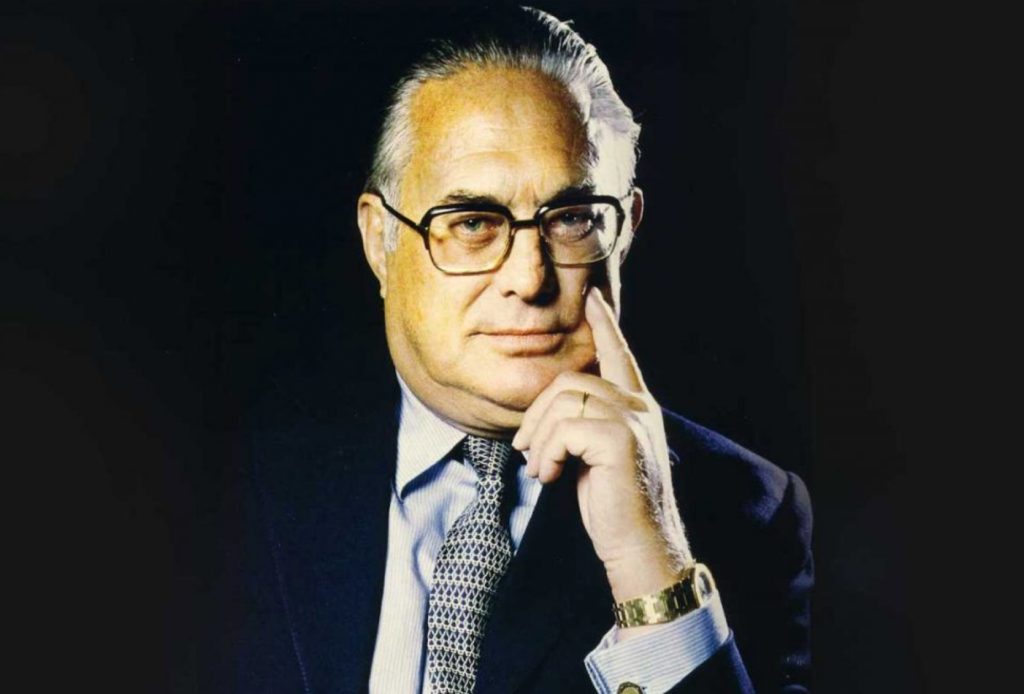 The idea behind the project was to combine the perpetual calendar module with JLC's ultra-thin Caliber 2120, which has been fitted to all Audemars Piguet Royal Oak models since 1972. The result was a 12 ½ ligne caliber just 3.95 mm thick with perpetual calendar moon phases functions and an ultra-thin central rotor in 21kt yellow gold.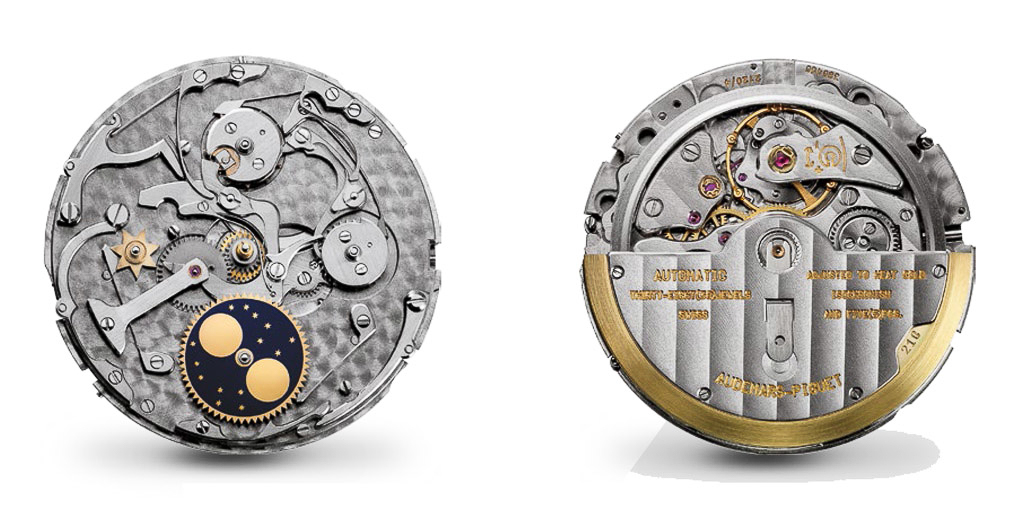 This caliber allowed Audemars Piguet to mass produce perpetual calendar watches with ultra-thin cases. Audemars Piguet estimates that 7291 Calibers 2120/2800 were manufactured between 1978 and 1993 when caliber 2120/2800 was gradually replaced by newer caliber 2120/2802 with leap year indicator. About 70 different references equipped with caliber 2120/2800 were marketed in at least 190 versions. Among them are Royal Oak models, but also perpetual calendar watches with round, octagonal and openworked cases.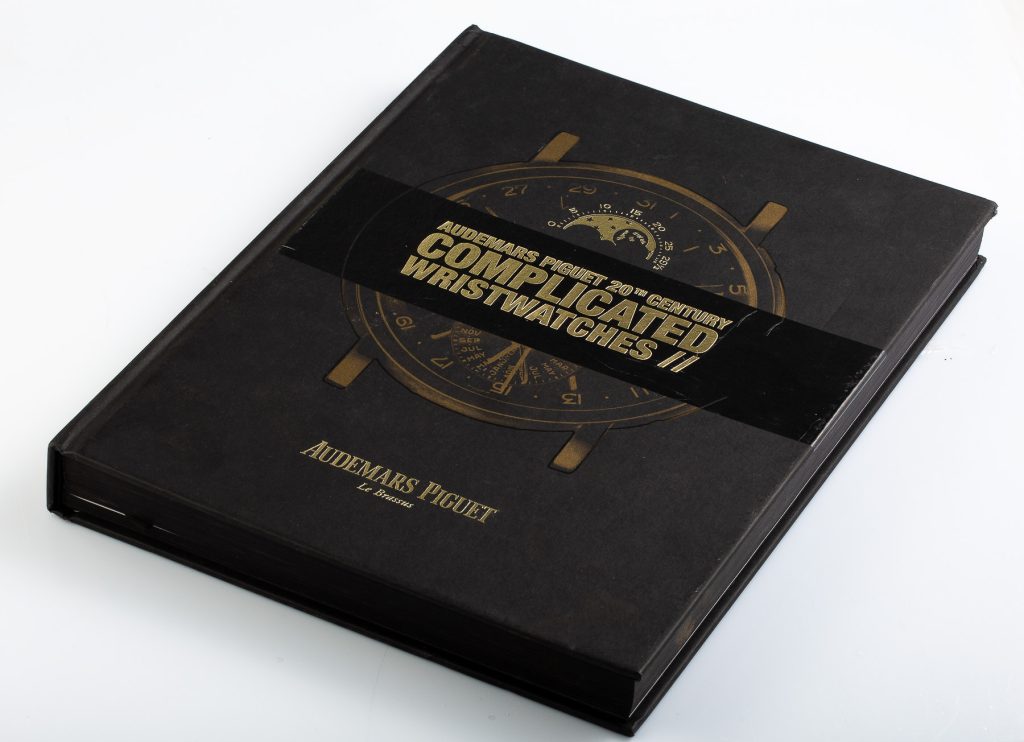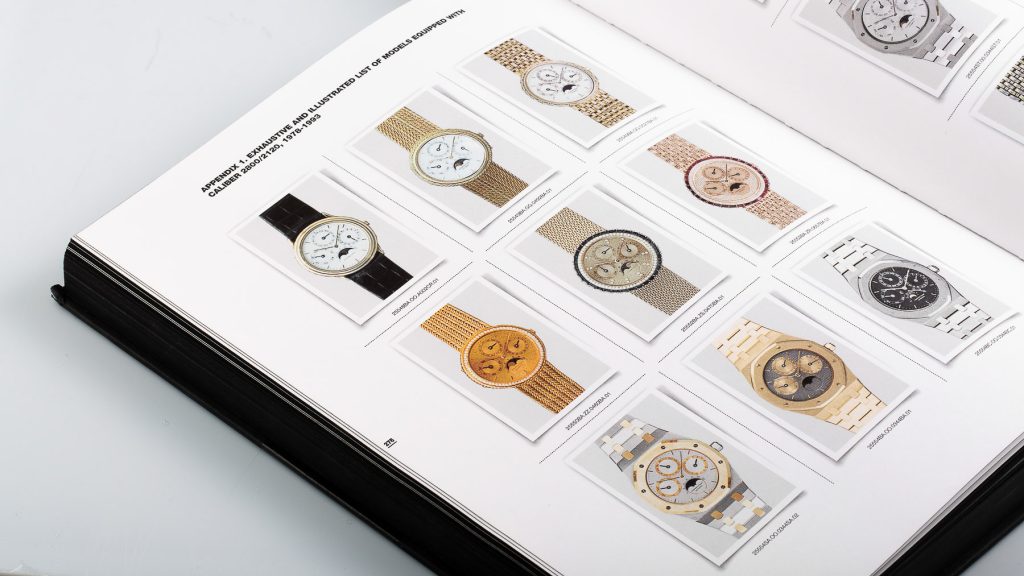 Reference 25736PT is a perpetual calendar wristwatch with round case manufactured in 1991. Its main features are the platinum case with integrated platinum bracelet and the beautiful bluish mother-of-pearl dial. Through the sapphire caseback, the exceptionally refined caliber 2120/2800 can be admired.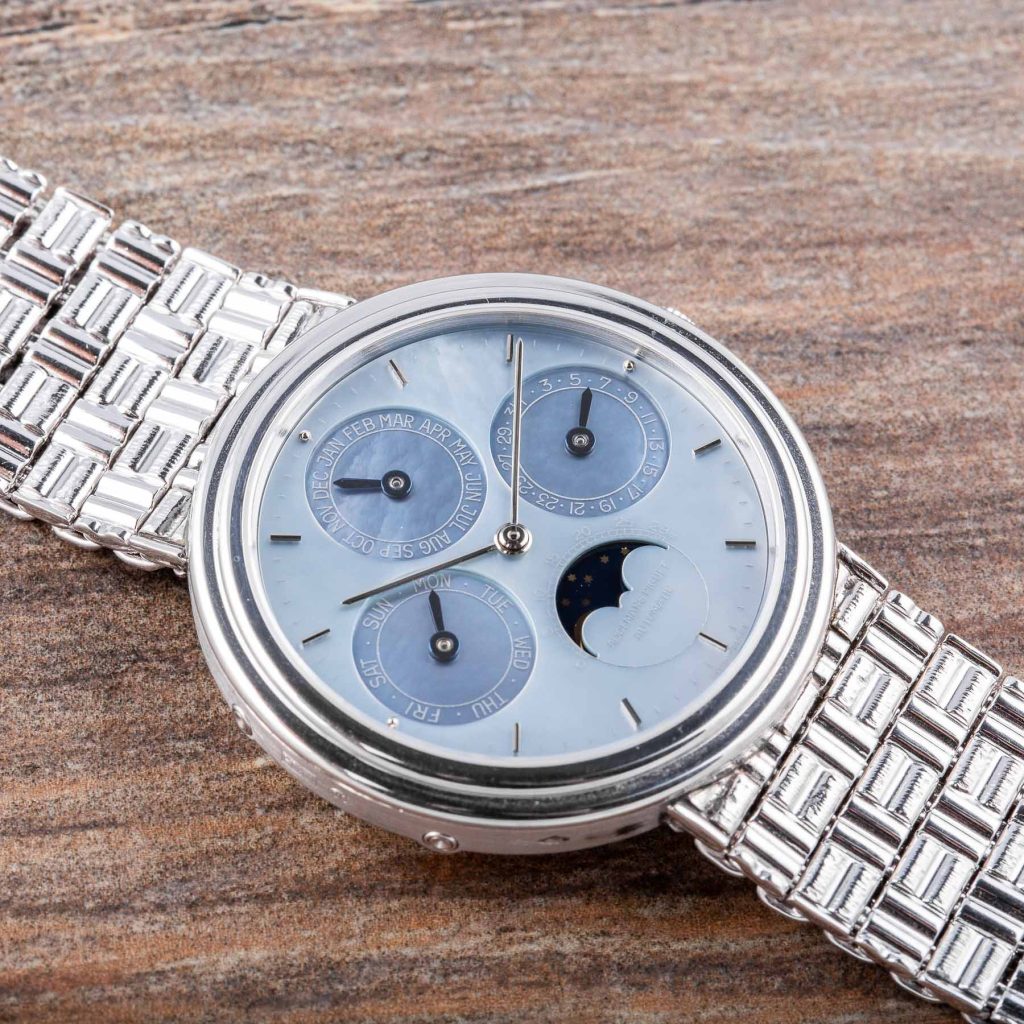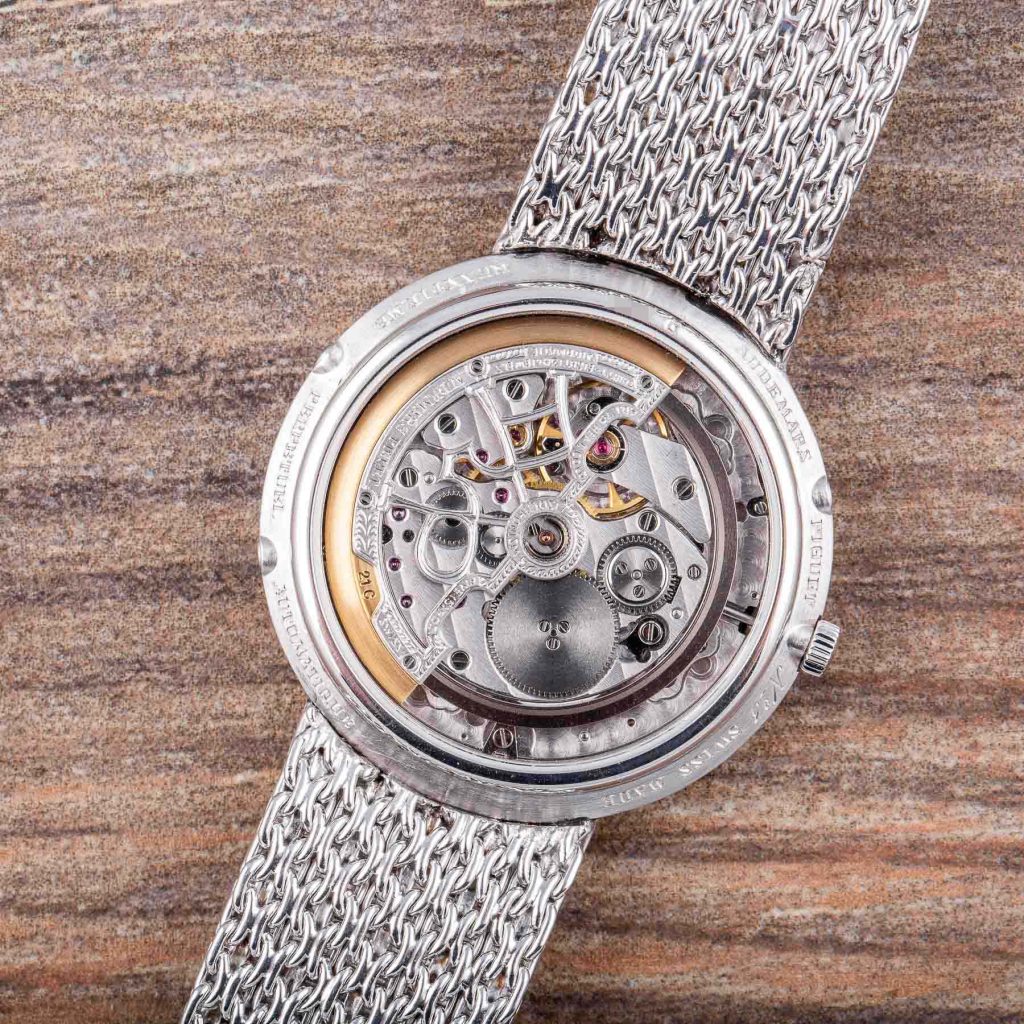 According to Audemars Piguet archives published in "Audemars Piguet 20th Century Complicated Wristwatches" the present timepiece is a piece unique. Most likely made to order for a special client this watch is undoubtedly a true grail for the collector.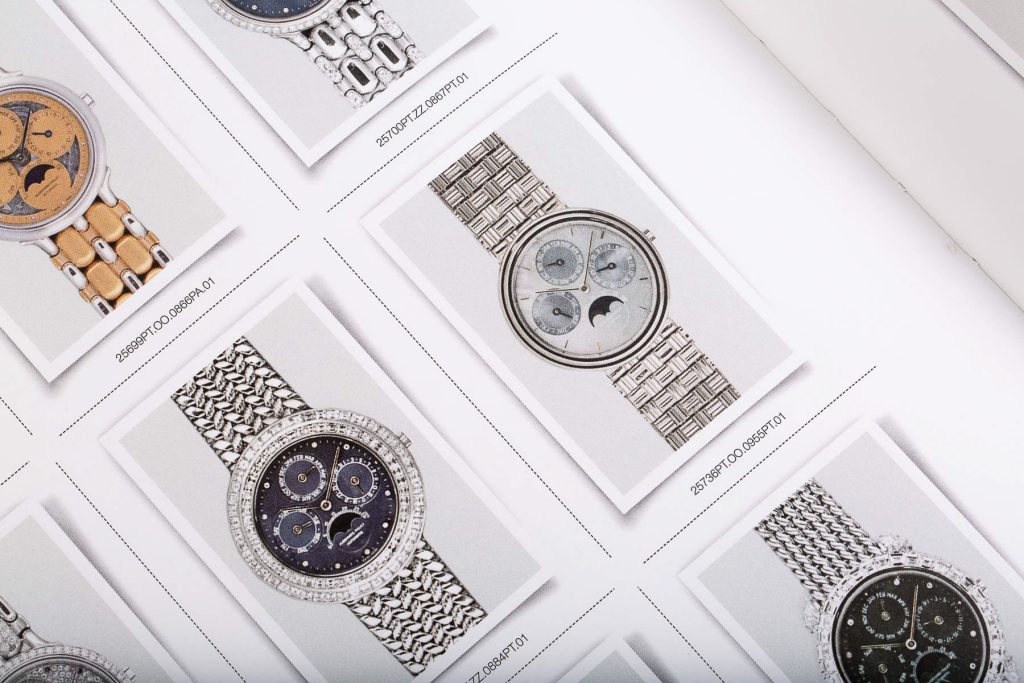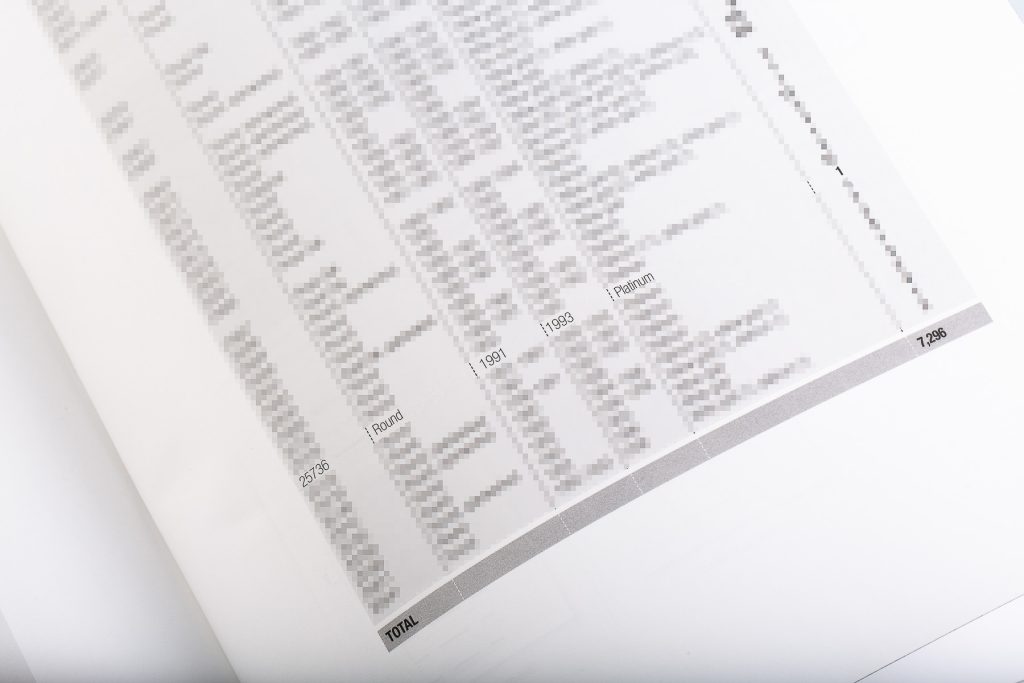 Extraordinarily preserved the watch is in pristine condition and shows only a few signs of wear on the case and bracelet. The renowned caliber 2120/2800 runs perfectly, the dial is completely flawless and shows no cracks or scratches. The beautiful bracelet has no stretch and appears to have never been taken to size.
The watch comes with a certificate of authenticity from Audemars Piguet confirming the MOP dial and platinum case and bracelet.
Serial Number D78XX-367XXX, Year 1993, Piece Unique.